FBA Restock Limits: 4 Ways to Keep sending (Including Black Hat Hack)
It's that time of year again: FBA restock limits are taking effect. With peak around the corner, Amazon is cutting down on units third party sellers can send to its fulfillment centers.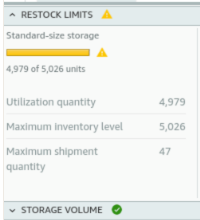 Every Monday, sellers dread looking at the updated cursor of the "Utilization quantity" of units and effective maximum shipment quantities.
Whilst the storage volume is usually unlimited, Sellers are getting hit with units limit they can send to FBA. According to various sources this is more likely a workers issue then a warehouse space issue. Still, blocked restock limits can have a massive impact on Q4 sales... some sellers have reported having their Max inventory levels divided by 8 in a few weeks...
4 Ways to keep units being shipped!
We suggest 4 approaches you can use to keep shipping products, from the most obvious to a black hat trick to use at your own risk.