Amazon remains the leader in delivery speed despite years of effort by other retailers to catch up. According to data from NielsenIQ provided to Insider Intelligence, customers received their Amazon orders 1.9 days on average after placing them online, compared to 4.4 days for other retailers. Both Amazon and its rivals have improved their delivery times since October 2020, but Amazon's longstanding focus on ecommerce is tough to beat.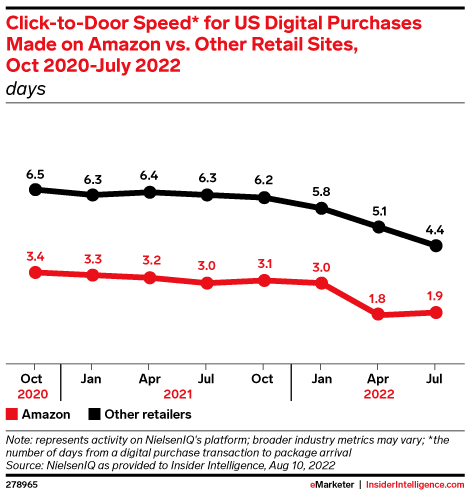 Retailers have used their stores as well as expanded warehouse networks to improve their shipping speed. Walmart notably has a large distribution footprint, but Amazon is focused on delivery specifically from its inception in a way that Walmart isn't necessarily. In 2022, Amazon slowed down growth of new warehouse space, yet still added 52 million square feet for the year, equal to one-third of Walmart's total warehouse space.
Overall, Amazon's speedy delivery times have been a key factor in its success. Consumers are still interested in getting their orders quickly, and Amazon's superior delivery speed gives it an advantage over its competitors. This is likely to remain the case for the foreseeable future.