Jeff Bezos' Letter to Amazon Shareholders amid the COVID-19 Crisis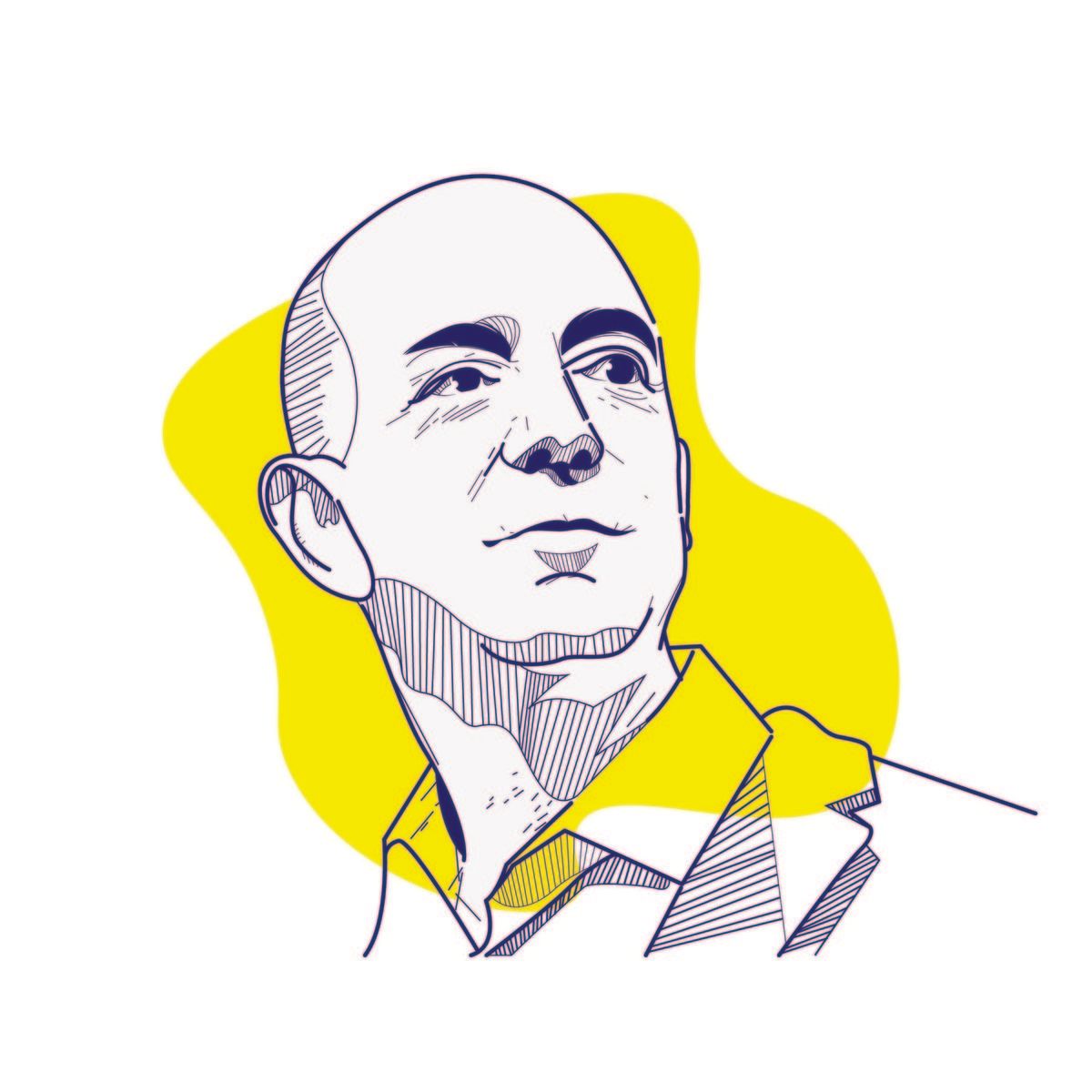 Amazon founder and Chief Executive Officer Jeffrey P. Bezos penned this year's shareholder letter, highlighting the e-commerce giant's outlook amid the Coronavirus pandemic. Putting it as he sees it, Jeff Bezos began with reiterating that the online retailer had learned of the value that its consumers have placed in them.
Seeing through this tremendous responsibility, he said, was Amazon's sole purpose for the moment, with all its time and resources being directed to mitigating the adverse effects of this crisis.
Heroic Amazonians for Whom Amazon Is Committed To Keep Healthy and Well
The Amazon CEO's teams were doing him proud, working all hours to make sure supplies got to their customer's doorsteps, seeing as people needed them. Operations across the global retail dot com have been strained to the limit, Bezos pointed out, as the demand for essentials spiked without warning. This, he says, is unlike the predicted holiday time surges that are anticipated and planned for, causing significant challenges to be experienced within Amazon's supply and delivery network.
Soon after the COVID-19 pandemic hit, Amazon was quick to prioritize the availability and shipping of essential or critical goods, which included household supplies and medical products. The Amazon founder reminded shareholders that the company's Whole Foods Market Stores have remained operational as suppliers of fresh food and vital commodities to consumers. The most vulnerable members of society to this virus, such as seniors, are given priority to shop one full hour before general consumers at Amazon-Whole Foods.
After temporarily suspending non-essential services like Amazon Books, 4-Star and Pop-Up, or offering associates other trading opportunities, the mega-retailer now geared towards the protection of its workers.
Keeping the Pandemic at Bay within the Amazon Global Operation
While expressing gratitude to their heroic undertakings, Jeffrey Bezos said that the safety of the online retailer's employees and contractors is and has always been of paramount importance.
Focus now is on the health of these committed Amazonians, and the company has made process changes aimed at keeping the team healthy and safe. Daily audits are conducted in association with top virology experts and health authorities, ensuring that the more than 150 measures put in place are thoroughly implemented. Part of these preventative measures includes the distribution of face masks, performing temperature checks, disinfectant wipes, and hand sanitizers across the Whole Foods Market stores.
To protect employees, support staff, and customers, Jeff Bezos said that door handles, lockers, stairway handrails, touch screens, and elevator buttons are regularly sanitized. Extensive social distancing has seen stand-up meetings eliminated for the protection of Amazon associates, while break times have been staggered and chairs spread out in the leisure rooms. New trainees for the online mega superstore now have to undergo safety training for up to six hours within the requirements for distancing.
Focus On Individual Testing For the Near Future to Revive the Economy
As forecast of Amazon's near future, CEO Jeff Bezos admits that testing must be scaled up, to the point that every Amazonian is tested, including those without symptoms. To get the economy back and running, he favored regular global-scale testing across the entire industrial landscape to help keep everyone safe. Significant testing capacity is, therefore, a requirement that society requires to be made available, as this would give the economy an upper hand against the virus.
Speaking passionately about the gap in testing capacity, Jeffery Bezos revealed that Amazon had begun an initiative aimed at building the company's first lab. Assembly of equipment has already started, and the redirection of Amazon research scientists, program managers, software engineers, and procurement specialists toward this project was being undertaken.
Cushioning the Amazonian Workforce beyond the Paycheck
Aside from the proactive measures that the retailer is involved in, Amazon's minimum wage has been increased to help cushion its employees against the circumstances. Across the US, UK, Canada, and many European countries, associates are receiving double the rate for overtime through the end of April.
During these difficult times, they serve to remind Amazonians that the services offered make a difference in the lives of consumers, Jeffrey Bezos indicated. Due to the ability and scale of innovation that Amazon utilizes, the online retailer can positively impact progress, seeing as many people count on it. Part of the company's efforts towards becoming an initial signatory to the pledge for climate change came last year with the co-founding of The Climate Pledge with Christiana Figueres, founder of Global Optimism.
Amazon's founder Jeffrey Bezos promised that the e-commerce giant was committed to meeting the Paris agreement directives ten years earlier. Achieving net-zero carbon amidst Amazons information moving and physical infrastructure moving is bound to be challenging. But Bezos believes that partnering with other companies within their 10 billion a year item delivery network will make these goals a reality.
Regular greenhouse gas emission reporting, decarbonization strategies are part of the Climate Pledge requirements for signatories, and Amazon is at the forefront of recruiting other players. Bezos let known that his company's plans to meet this pledge included a 100,000 electric delivery van purchase from Michigan based electric vehicle maker, Rivian. By 2022, Amazon aims to have 10,000 of the Rivian electric vans on the road, with the remaining to be fully operational as early as 2030.
Once the online superstore accomplishes this, Jeff mused, it will send a signal to other global market players that investments and development of economic strategies for low carbon were overdue.
Leveraging Scale for Good beyond Covid-19
Amazon leads in the number of jobs created, with 840,000 direct employees globally, and invests indirect support of over 2 million work positions. Investments in fields like logistics, construction or professional services, and small to medium-sized affiliates, the Amazonian workforce swells to about 4 million. Many of these opportunities are at the entry level, which offers many people their first chances at joining the productive workforce.
Within the shareholder's letter, CEO Jeffrey Bezos said that working as an Amazon employee comes with the highest minimum wage of $15 and benefits, making the lowest-paid associate earn better than most federal workers. He called on other industry leaders to join a campaign for raising the federal minimum wage from $7.25 to $15 and also aim to improve employee's lives beyond the paycheck. Full-time Amazonians enjoy equal retirement, maternity, and other benefits with their senior executives, including health insurance and the 401K plan.
Amazon's future engineer is a program started by the online retailer to help workers evolve their skills in level with the advances in technology. Over 100,000 Amazon workers are part of training programs that equip them with place-of-work skills in fields of cloud computing, machine learning, and healthcare. Career Choice, a pre-paid tuition program, aims at helping associates within to access high demand opportunities, paying up to 95% of tuition fees for diploma and certificate courses.
Amazon Future Engineer is a tech-driven program that trains and educates disadvantaged youths in low-income communities for computer science careers. Across the country, over 2,000 schools now have access to AP computer science and introduction to computer science classes, teaching computing and coding. The program awards 100 college scholarships each year, after which the recipients receive paid internships after one year at college.
A UK based counterpart of this program funds 120 engineering students and apprentices from disserving backgrounds who can then pursue careers in technology.
Final Thoughts from Amazon's Founder and CEO
Amazon founder and CEO Jeffrey P Bezos concluded his shareholder's letter by returning to the COVID-19 crisis, saying that his time and thoughts were focused on how the company aims to help while being in the midst of it. He thanked fellow Amazonians for the ingenuity and grit determination they are exhibiting as the e-commerce megastore navigates through the pandemic.
Jeff Bezos promised shareholders that Amazon could be counted on to look beyond the present crisis to provide insights and lessons for application moving forward. He left everyone with a quote from Theodor Seuss Geisel that displayed the optimism he has that civilization will choose not to be defined or destroyed by the crisis, but to let it strengthen society.